A specialized series of spinning rods designed specifically for trout fishing. Using our proprietary fiber blend and GLX levels of performance, our goal is to provide anglers with a sky is the limit approach to the fishery. Originally made in 2-piece configurations for ease in transportability, a new - for 2010 - selection of 1-piece rods has been added for those anglers that want the ultimate in light weight and performance. Effective for lake or stream fishing, these rods are made with one objective in mind... to help serious trout anglers become more successful and enjoy their time on the water with the lightest, most sensitive rods available. Four models are available in GLX... two 1-piece and two 2-piece rods. The entire series features fast tips for the ultimate in control, whether your pitching a spinner, a marabou jig or drifting single eggs on your favorite creek . The fiber blend models feature a combination of regular cork and composite cork for a new, unique looking rear grip with up-locking reel seats and Fuji, single-foot Alconite guides. The GLX models feature Recoil guides, cork & foam grips with up-locking reel seat. To quote Field & Stream Magazine rod testers, during their annual Best of the Best Awards field reviews in 2008, they said, These rods are like fishing with a feather! Imagine what the new 1-piece rods feel like... they're even lighter! Varying in power from ultra-light to light, rated from 1-pound test line up to 8-pound, they are surprisingly strong. You'll want to take one these rods along for all your fishing adventures. How big a fish can you catch on one of these rods? You might be surprised! The sky is the limit!
Key Features
Mid-modulus construction
Fiber Blend technology utilizes a marriage of diverse blank materials to obtain performance and price point
Multi-Taper Design reinforces potential stress points within the blank while reducing unnecessary graphite material
Unsurpassed strength and durability
Technique specific rods
Handcrafted in Woodland, Washington
Product Image Gallery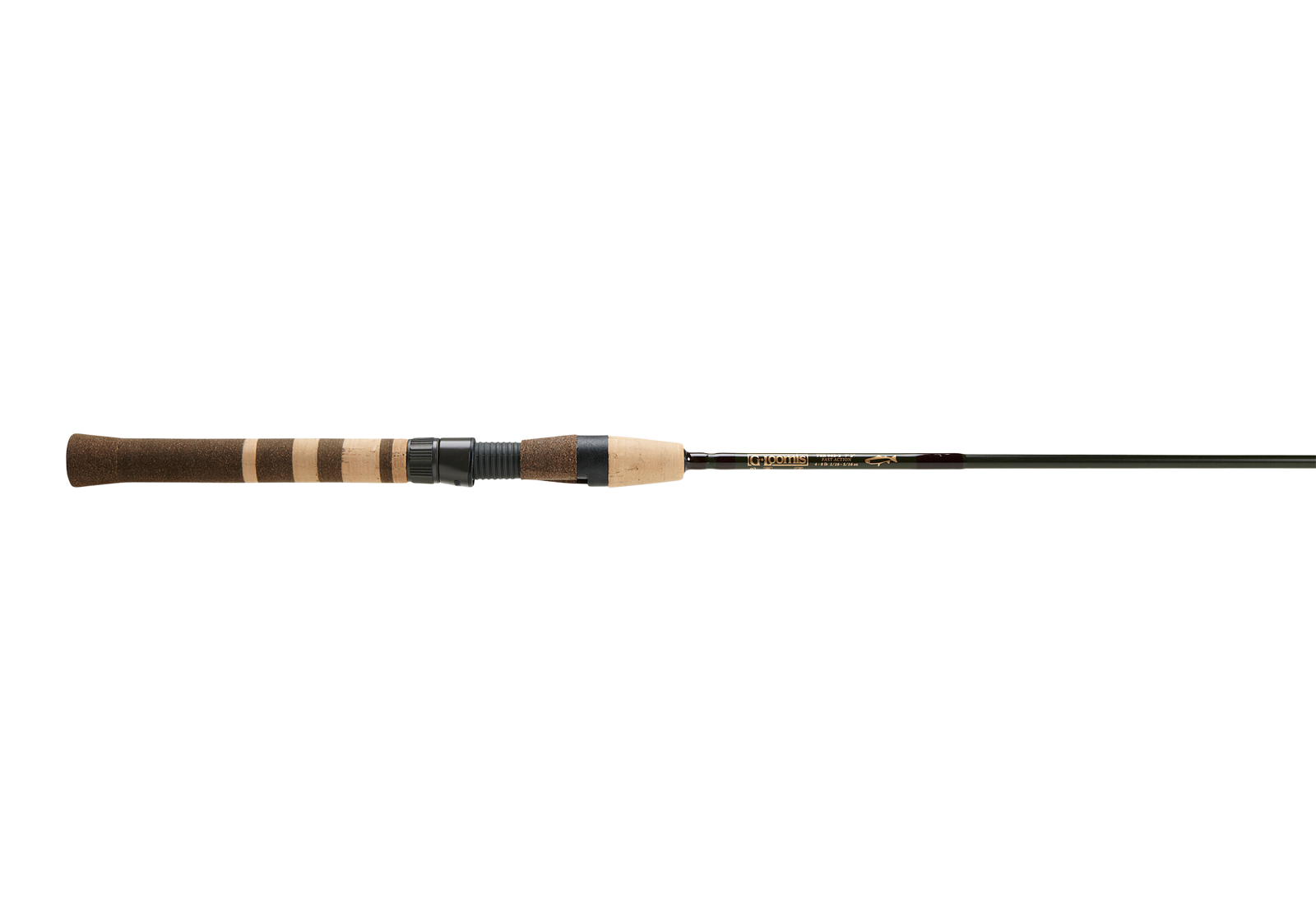 Models Available
GLX SPIN Product Variants

| Sku | Model | Length | Power | Action | Pieces | Line (lb) | Lure (oz) | Handle | Price | |
| --- | --- | --- | --- | --- | --- | --- | --- | --- | --- | --- |
| 11853-01 | TSR 862-2 GLX | | | | | | | | $749.00 | |
Technology
MULTI-TAPER DESIGN

Since 1982, we've pushed the boundaries of manufacturing technology, materials innovation, and product design. That's why G. Loomis rods deliver superior performance, heightening angler experience and effectiveness on the water. While there are countless examples of this philosophy in action, one technology in particular encapsulates our drive to build the most advanced rods in the world: Multi-Taper Design.

Multi-Taper Design is best described as a series of "micro-tapers" within the overall taper of the rod. This unique, proprietary process allows us to use more material on potential break points and less material everywhere else. To accomplish this, we manufactured a custom rolling table...and it's the only one in existence today. The result is a catalog of precisely defined actions that strike a perfect balance between durability and performance.